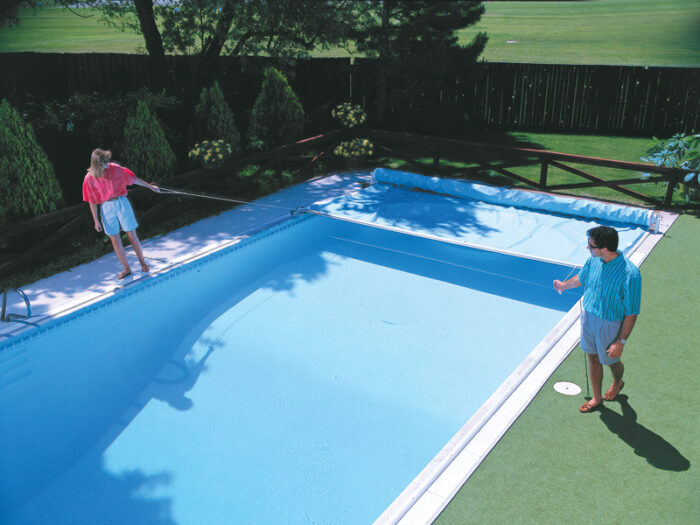 Manually cover your pool with
The Step-Saver® Manual Cover
Standard Step Savor Components
Manual roller with turn handle
Attached cover removal ropes
Universal track
Wheels
Exclusive premium-grade reinforced QuadCore™ vinyl
Automatic water removal pumpUL Listed (Classified Product) – conforms to applicable requirements of ASTM safety standard F1346-91
Our standard turn handle system makes retraction of the pool cover on a standard sized pool a less strenuous task than "anchor" type covers.
The Power Wheel option facilitates cover removal by letting you use both leg and arm muscles to uncover the pool. This option also allows operation from inside a recessed housing.
Our premium special order vinyl is available in many custom colors to match your pool decor. If you do not see your favorite color, contact your dealer for additional color options.
Your Step-Saver® manual pool cover system is an economical alternative to an automatic pool cover, made especially for your pool. Each Step-Saver system includes standard components, but we also offer a variety of optional components for additional customization.
Need help? Fill out the form below
Our team will get back to you within the next 1 to 2 business days!